Radio Frequency Body Sculpting
Single Treatment £160
Course of 4 £470
This brilliant 3-in-1 body sculpting system results in inch loss and younger-looking, tighter skin.
Permasculpt utilises Ultrasound, Radio Frequency (Mono and Bi Polar) and Vacuum Suction to create amazing inch loss and body sculpting effects. Distinction guarantees results over a course of 4 treatments, using before and after photographs of you.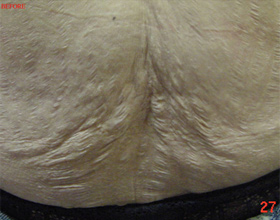 Before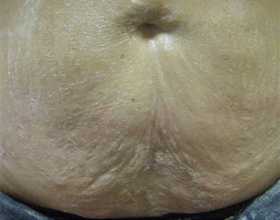 After
Lose Unwanted Inches
PermaSculpt removes fatty tissue in 3 ways. Using Ultrasound, fat cells can be destroyed. Using RF, the cells can be shrunk. Using Vacuum Lymphatic Drainage, the cells can be broken apart.
Tightens & Firms
PermaSculpt's RF module can be used to shuffle collagen closer to the surface while stimulating regeneration of new collagen to make skin appear smoother and feel revitalised.
Reduces Cellulite
Vacuum Lymphatic Drainage has been well documented and proven to reshape cellulite and bring back elasticity to the lower layers of the skin
The Science & Technology
Radio Frequency (RF)
PermaSculpt's RF technology consists of 2 separate RF heads, MonoPolar and BiPolar. MonoPolar RF allows heat to penetrate deep into subdermal layers causing fat cells to shrink and literally melting fat so it can be excreted from the body. This gives an instant inch loss result. BiPolar RF is aimed at spreading gently through superficial layers. In combination our RF technology allows the practitioner to heat the lower collagen rich layers of the skin, helping tighten existing collagen, bringing collagen to the surface and stimulating the formation of new collagen, leaving skin smoother and tighter.
Ultrasound
PermaSculpt's Ultrasound technology creates a fast acting way to remove fat & cellulite. Our Ultrasound technology works by sending an extremely fast pulse of sound waves into the skin creating cavitation within fatty cells which can then be removed naturally through the lymphatic system. Treatment using PermaSculpt Ultrasound is target specific, only affecting fat tissue, leaving non-fatty tissue unaffected. There are no side effects to PermaSculpt Ultrasound, the system is easy to use, can treat any area of the body, any size. Although this treatment is very safe, to date it's energy output is double the strength of the next leading brand ensuring you get the best results possible
Vacuum Lymphatic Drainage (VLD)
PermaSculpt's Vacuum Lymphatic Drainage system consists of 2 separate size heads. The operation is fully adjustable from long, smooth to short, powerful pulses. The diversity achieved from having adjustable size, pulse and power, gives the practitioner control of the process and the ability to treat a variety of different body sculpting issues. The PermaSculpt VLD can even be used for gentle body massages however, is most commonly known for non surgical cellulite removal & skin tightening, without any consumables, side effects or mess.
Ask now about a complimentary consultation
Inch Loss Wrap
Indulge yourself with our body wrap designed to help trim, tone and tighten, minimizing the appearance of cellulite. Our secret ingredients help to improve circulation, speed up the elimination of toxins, increase the metabolisim and improve the appearance of the skin. Our secret is in combining aloe and select European herbs with two remarkable warming agents, Cinnamon Oil and Capsicum. It's so relaxing! This is an ideal treatment for a night out if you are planning on getting in to that little black dress.
£58 - 55 mins